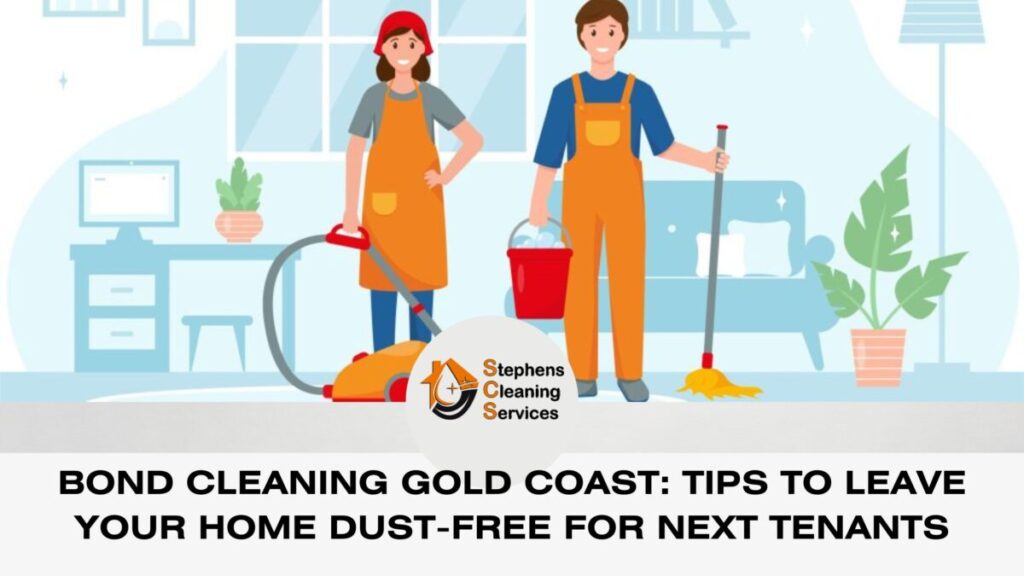 Bond cleaning is an essential requirement for every tenant as it helps to get the full bond money back. Being a tenant it is your responsibility to make the premises clean and spotless before leaving for the next tenant. 
However, leaving behind dust-free property is not easy and it involves time and effort. This blog will delve into a few handy tips to remove dust and allergens from your house to make bond cleaning effective and hassle-free. So let's begin: 
Removing Dust from Walls
Walls and high-rise ceilings are the hotspots for cobwebs and pest infestations. While opting for bond cleaning in the Gold Coast, you must make sure to ask the professionals to pay special attention to these areas so that there are no traces of these critters in the entire property. Here is how you can do it effortlessly: 
Use a high quality vacuum cleaner with an extra attachment to remove these cobwebs

Long-handed sweepers can also help remove dust from walls and high-rise ceilings

To remove stains, hand impressions or spots from walls, you can also use a wet fibre cloth and wipe down the surface with the help of it. 
Removing Dust from Electronic Items
Over time, electronic items like TVs, microwaves and monitors accumulate dirt and the lack of routine maintenance and upkeep of these areas turn them into a hotspot of allergens, bacteria and pollens. Before vacating your property, you need to thoroughly clean these areas for the next tenant. Here is how you can do it with the help of professional bond cleaners in Gold Coast: 
Remove dust from electric cords, TV screens, and other electrical appliances with a clean, dry microfiber cloth. Make sure you don't use water in your rental property because it may damage the contents.

Scrub the area with a duster or vacuum cleaner to get rid of dirt and debris.

Using cotton balls is the best way to clean dirt embedded in keyboards and USB ports. It's easy for dust particles to stick to cotton swabs and make cleaning easier.

For a shiny appearance on TV screens and monitors, use a glass cleaning liquid.
Removing Dust from Floors
If you have carpeted or tiled floors, you need to get rid of the dust mites that have accumulated over the years. Regular mopping and vacuum cleaning can remove the dirt accumulated on the top surface, but it is unable to clean the dirt embedded in grouts. Hence it is important to use special scarping tools during end-of-lease cleaning in Gold Coast to remove even the tiniest traces of dirt accumulated on the floors. 
The floors develop pet hair, dust particles, skin cells, and germs throughout the day, so you have to use non-toxic pet-friendly cleaners.

Before moving out, steam clean your carpet or tiled floors to get rid of stains, germs, and bacteria. If you don't have time or patience to deep clean your floors, you can hire a professional cleaner to help you.
Address Outdoor Spaces
If your rented home has outdoor areas, like a patio, balcony or garden, make sure to clean these spaces as well, and remove any debris, leaves or dirt that may have accumulated over time. Trim plants and bushes for a neat appearance. Competent companies providing bond cleaning in the Gold Coast pay special attention to outdoor areas.  
Clean Windows
Windows tend to accumulate a significant amount of dirt. So please make sure to never ignore them before leaving. Clean both the interior and exterior of the windows using a glass cleaner. Remove and wash window coverings like curtains or blinds if necessary. Experienced bond cleaners in the Gold Coast know how to clean windows to give them a clean and perfect look. 
The Final Check
Before you officially move out of the property, conduct a final check to be sure that everything is in order. Double-check every room and area to make sure it meets the cleaning standards. 
At Stephens Bond Cleaning, we have been offering end-of-lease cleaning in Gold Coast with a 100% bond back guarantee and have gained trust from clients because of our quality work, highest standard, and professionalism. We schedule our vacate cleaners around your schedule and do an excellent job. Get in touch with us or schedule an appointment if you're approaching your move-out date and want a 100% bond refund!
Read Also Thsi Blog